Touch Keyboard for Any Taste
Hot Virtual Keyboard replaces Windows built-in Touch Keyboard with a much more advanced alternative. Supporting all languages and all installed keyboard layouts, Hot Virtual Keyboard is a truly international tool. Supplying over 60 pre-defined keyboard skins, the virtual on-screen keyboard allows you to create, customize and configure a keyboard to your personal liking. Adjust colors and gamma, set the shape of the keys, and choose your own background.
Using a virtual on-screen keyboard does not have to be a hassle. Try Hot Virtual Keyboard, and you'll never go back.
Compatible with Windows 11, 10, 8, 7, Vista, XP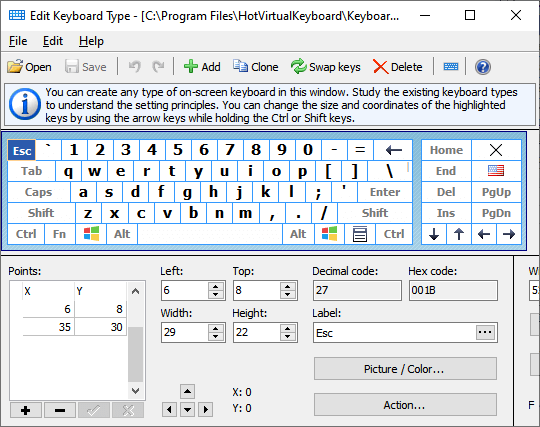 Fully Customizable Look and Behavior
You can design your own virtual keyboard or modify a pre-made keyboard that will save you time.
Hot Virtual Keyboard has options for assigning pictures to each key of the on-screen keyboard: separate pictures for different key states, a separate font color for each key state.
Programmable Keys
A single tap launches an application, opens a Web site or executes a keystroke macro. Pre-program keys to perform routine text editing tasks such as copying and pasting, or to control the behavior of opened windows and various aspects of your system.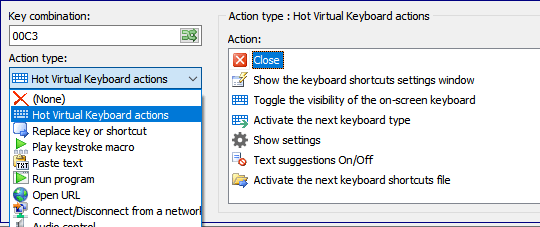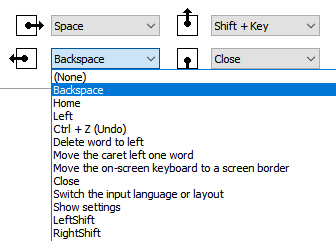 Gestures Support
Hot Virtual Keyboard enables you to use gestures to quickly type capital letters, spaces or perform other specified actions.
A three-finger tap on your touchscreen will toggle the visibility of the on-screen keyboard.
To move the on-screen keyboard, touch it with two fingers and move them in the same direction.
To resize the keyboard, touch the on-screen keyboard with two fingers and then move the fingers toward each other (pinch) or away from each other (stretch).

Touch Keyboard Text Suggestion
Now you can write entire sentences with a few taps. Because as you type, you'll see choices of words you'd probably type next, based on your past conversations and writing style.
The Text Suggestions are optimized for languages around the world. Which means you'll see suggested words and phrases that are right for your language.
Automatic Appearance
The virtual keyboard pops up when you click on an input field.
Logon Keyboard
The virtual keyboard can be shown on the logon screen before any user logs into the computer system.
Moving Window into View
If the active window is under the keyboard, Hot Virtual Keyboard can change the position and size of the active window.
Integrate into Your Own System or Kiosk
You can bundle Hot Virtual Keyboard with your own application. Also, you can lock all settings to prevent the end user from changing them. Learn More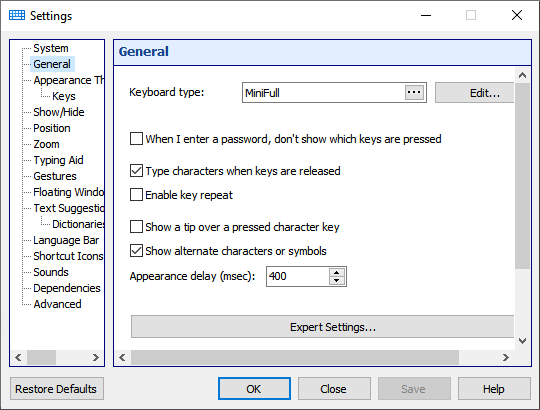 Join over 250,000 satisfied users around the world