Keyboard Shortcuts
A keyboard shortcut (or shortcut key, hot key, hotkey, key combo, etc.) is a combination of keys that you press simultaneously in order to perform a certain action.
You can add, delete and edit keyboard shortcuts in a special window.
When you specify a keyboard shortcut in Hot Virtual Keyboard, you can use any keys and their combinations, including Win, NumLock, CapsLock, Alt+Tab (except for Sleep, WakeUp, Power, F-Lock and Ctrl+Alt+Del).
Keyboard shortcuts are displayed on the virtual keyboard. A separate set of keyboard shortcuts is displayed for each application.
Since applications use different mechanisms for storing keyboard shortcuts, it is impossible to detect them automatically. So we use our own sets of keyboard shortcuts for each application. You can configure keyboard shortcuts for your application or for one of popular applications.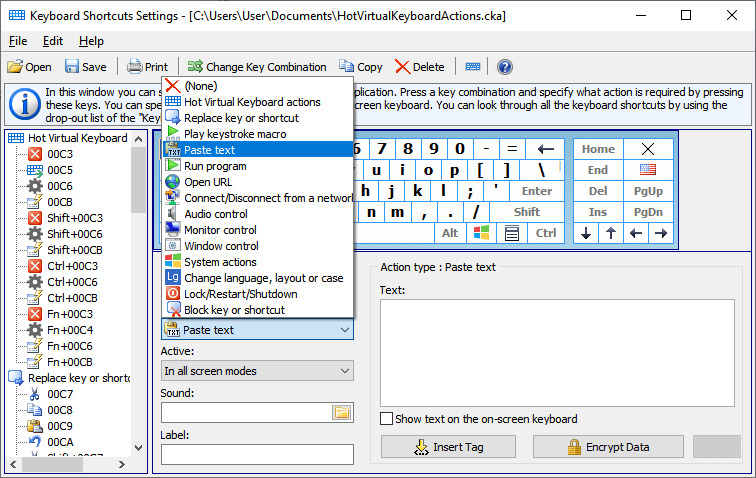 Hot Virtual Keyboard includes the keyboard shortcuts of the following applications:
Keyboard shortcuts for Windows 11, 10, 8, 8.1, 7, Vista, XP
Adobe Illustrator keyboard shortcuts
Adobe ImageReady keyboard shortcuts
Adobe InDesign keyboard shortcuts
Adobe Photoshop keyboard shortcuts
CodeGear Developer Studio keyboard shortcuts
CorelDRAW keyboard shortcuts
Corel PHOTO-PAINT keyboard shortcuts
Mozilla Firefox keyboard shortcuts
Mozilla Thunderbird keyboard shortcuts
Microsoft Document Explorer keyboard shortcuts
Microsoft Office Word keyboard shortcuts
Microsoft Office Excel keyboard shortcuts
Microsoft Office Outlook keyboard shortcuts
Microsoft Office Visio keyboard shortcuts
Microsoft Internet Explorer keyboard shortcuts
Microsoft Windows Mail keyboard shortcuts
Microsoft Media Player keyboard shortcuts
Windows Movie Maker keyboard shortcuts
Microsoft Notepad keyboard shortcuts
Microsoft Outlook Express keyboard shortcuts
Microsoft Paint keyboard shortcuts
Microsoft WordPad keyboard shortcuts
Microsoft Visual Studio keyboard shortcuts
Microsoft SQL Server Management Studio keyboard shortcuts
OpenOffice keyboard shortcuts
Opera Internet Browser keyboard shortcuts
The Bat! keyboard shortcuts